Site news
28.04.13 We have started to change our design. Step by step you you'll see the new modern layout.
---
08.04.13 Only "Qwerty"? - No! "Colemak" and "Dvorak"? - Yes!
Studying opportunities have grown! Now, you can learn Dvorak and Colemak typing along with the good old QWERTY. Choose the layout right under the virtual keyboard.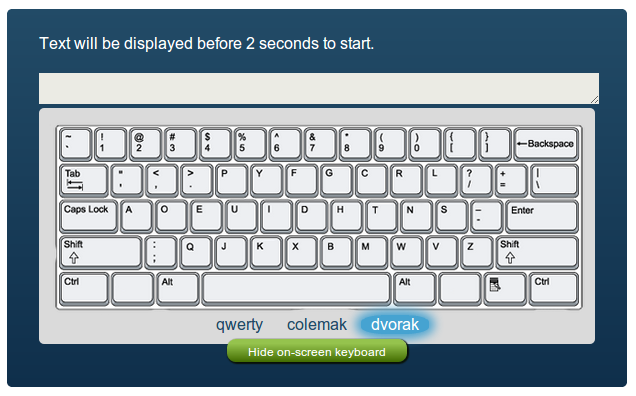 ---
27.03.13 The training process has become more enthralling! We added various missions! So playing them you can earn extra points.
---
10.02.13 Typing speed Titles are in use now! Know more about them "About > FAQ section"
---
03.02.13 We added "Logbook". So, now you can always remember all your achievements.
---
28.01.13 Use your favorite social networking service (Google, Twitter or Facebook) to login!

---
12.01.13 We added a lot of new bonuses! Collect them all! You can find them on the "Profiles > Bonuses" page. Hover mouse on the bonus and know what you should do to get it.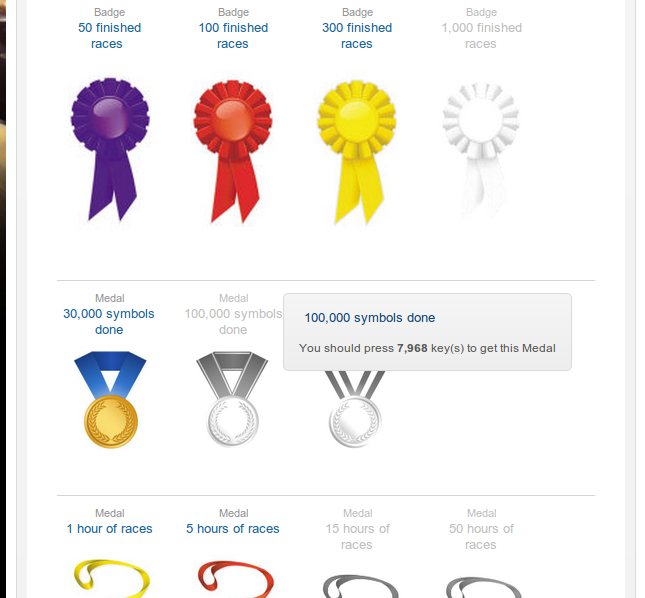 ---
10.12.12 Brag online with our userbars! Copy the userbar code to a forum, blog, or your personal website to let everyone know your achievements at keyboard-racing.com!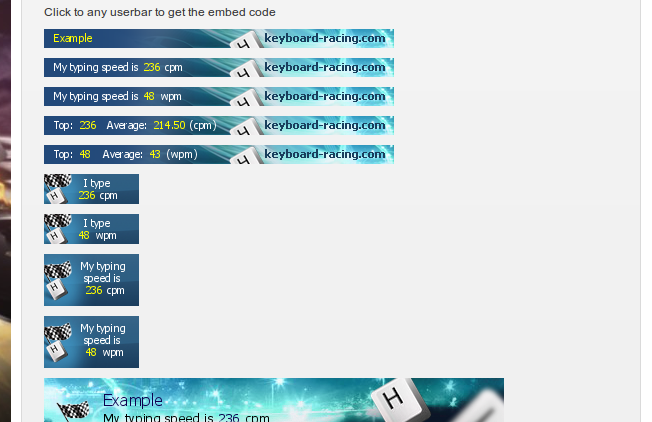 ---
30.11.12 Keeping in touch with the statistics is easier now for all registered users. Your stats are updated right as a game is finished and you will see it in a real time!


---
24.11.12 We added service of short links. Now it's much easier to invite friends to games! You can find this block in the race page.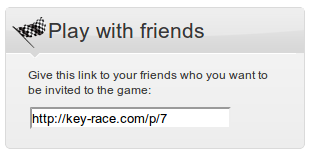 ---
18.11.12 Now you can look at your Mistakes statistic. Go to "Profile -> Statistic".
---
17.11.12 Online the typing speed is also measured in WPM - Word Per Minutes. Words per minute, commonly abbreviated WPM, is a measure of input or output speed. For the purpose of typing measurement a word is standardized to five characters or keystrokes, including spaces and punctuation.
Now your typing speed will be displayed in two types: symbols per minute and WPM.
---
07.11.12 The process of playing games has changed a lot. Now all games have some modes:
Simple race — A game with no limits. Type as you can.


No mistakes! — You can do only one typing mistake, if more - the game is over.


Marathon — It is a hard typing test. You will type a text for 5 minutes.

You will have 2 times more points for the game in the "No mistakes" mode and 4 times more points for the game in the "Marathon" mode.
---
27.10.12 We refused to use "Awaiting players" time for "Open" games and added the possibility to start a game in 15 seconds.
---
05.10.12 Your opinion is very important for us! Post your comments!. We will do our best to make this site better!
---
04.10.12 Watch the races! Look at the race as a spectator. If you late to join to race as a racer, join as a spectator (Such races will have "Race" label instead of time counter).
---
02.10.12 Finally we migrated to the new VPS server! Site became faster! Mail us if you find any errors: contact@keyboard-racing.com
---
01.10.12 We've just updated the statistic rating. Look how your average speed grows.
14.09.12 Typing has become much easier with our new layout!
31.08.12 Also, don't forget to read a new article
30.08.12 Hey! Look at your rating!
21.08.12 Create games with different options! Read
30.07.12 Typing Lessons are here!
27.07.12 Microsoft IE 6 and 7 no longer supported
12.07.12 More and More texts! Enjoy!
03.07.12 Typing practice lessons are coming in July